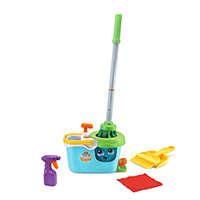 Clean Sweep Learning Caddy
Mop, hop, spin and sweep with the Clean Sweep Learning Caddy™! Let kids clean up "messes" while they're still excited to use a broom — your future self will thank you! Your today self (and your child) will love how the cute lil' face on the bucket lights up and sings as kids pretend to clean. The interactive caddy brings learning into clean-up time with imagination. Uh, oh! Muddy paw prints on the floor. Grab the green mop to clean it! The soap pump makes funny squirting sounds as you pump out the imaginary soap. One, two, three. Now press the pedal to see the mop spinnity-spin! Show kids that cleaning actually can be all fun and games with boogie-down dance breaks. Follow fun directions like, "Hop while you mop! Now dance to the left and dance to the right!"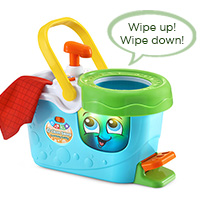 Make chore time fun with a cute and friendly interactive bucket.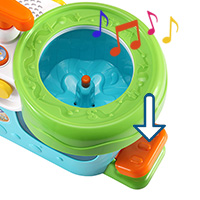 The foot pedal spins the bucket with swishy water sounds.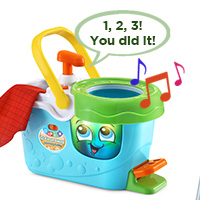 Count along from one to ten as you press the pretend soap pump.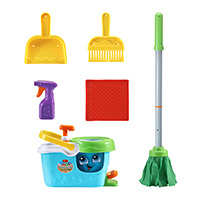 Use the mop, broom, dustpan, spray bottle and cleaning cloth to clean imaginary messes.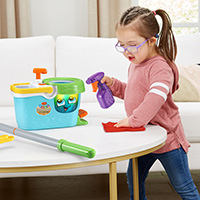 Words for Colors and Directions
Follow fun directions and hear words for colors and directions like up, down, left and right.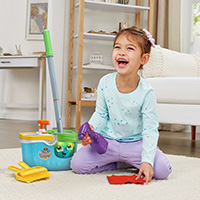 Three Engaging Play Modes
Learn, Game and Pretend modes triple the fun of play and learning.
Make chore time fun with a cute and friendly interactive bucket.
| | |
| --- | --- |
| Weight | 1.38 kg |
| Dimensions | 28.8 × 38.1 × 13.3 cm |
| Batteries | 2 AA Batteries |
Only logged in customers who have purchased this product may leave a review.
Resources
Download Guide
Get Support
What is included: Clean Sweep Cleaning Caddy™, Spray Bottle, Cleaning Cloth, Interactive Bucket, Mop, Dustpan, Broom, Quick Start Guide
Colors, Counting, Following Directions, Pretend Play, Dance
"The Clean Sweep Learning Caddy™ encourages preschoolers to associate counting with playful actions like pressing on the soap pump to help reinforce their concept of numbers and quantities. Fun activities like multi-step cleaning tasks support foundational skills like listening comprehension and following directions." Clement Chau, Ph.D., LeapFrog Learning Expert