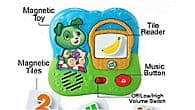 Colourful tile reader and magnetic tiles stick to your fridge or any magnetic surface.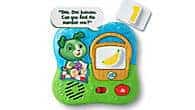 Place a number tile in Scout's picnic basket to hear the number and count along with Scout—'One! Can you find one banana for my picnic lunch?'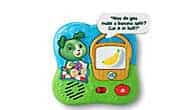 Place the matching food tile in Scout's picnic basket to hear about numbers– 'Great! One banana. I have one banana in my picnic basket'. Press again for a helping of food group fun – 'Bananas are a fruit. Can you find another fruit?'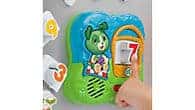 Matching numerals to object sets help to reinforce the concept that numbers represent quantities.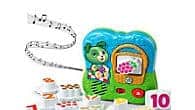 Sing along to counting songs with Scout!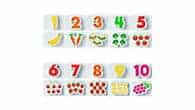 Includes 10 colourful number tiles and 10 matching food set tiles.
Resources
Get Support
What is included: Magnetic Tile Reader, 20 Interactive Magnetic Tiles, Parent Guide
["Numbers","Colours","Counting","Matching"]