Twist and spin the gears and dials and press the friendly robot face button to explore numbers, colors and DJ beats.
Meet the motor-sensory toy that's bursting with personality, the Busy Learning Bot™! Explore four sides of fun with spinning gears, buttons, a dial and a slider that deliver learning alongside play. Play mode and Music mode offer two ways to play and learn. Combinations of pressing, twisting and moving the manipulatives prompt the bot to sing the ABC Song, talk about colors and opposites, count from one to five, and much more. Drop some beats, sing the scale and enjoy lots of DJ sound effects in Music mode. Interact with the bot and learn as you play in Play mode. The cute little bot engages the social side of young minds with opportunities to nurture the robot, asking for actions like scratching an itch by turning a dial. Kids will love exploring, learning, singing and laughing with this lovable, sensory robot!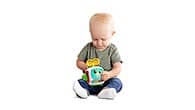 Play on four sides of the bot
Gears, dials and buttons keep kids engaged as they exercise their fine motor skills.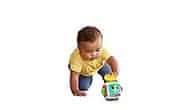 Friendly robot teaches about counting, colors and opposites with playful phrases and songs.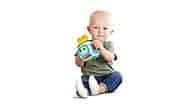 Drop some DJ beats, practice the musical scale and sing the ABC song.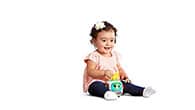 Care for your robot friend
Nurture your little bot by responding to his requests for care.
| | |
| --- | --- |
| Weight | 0.44 kg |
| Dimensions | 10 × 13.1 × 15.1 cm |
| Batteries | 2 AAA Batteries |
Only logged in customers who have purchased this product may leave a review.
ABCs, Colors, Counting, Music, Opposites
"The Busy Learning Bot™ includes a wide variety of fine motor manipulatives such as buttons, gears, a dial and a slider to engage your infant in exercising their motor strength and hand-eye coordination. Fun audio responses with the robot character expose your child to the basics of counting and letters while they explore cause-and-effect and early language skills." Clement Chau, Ph.D., LeapFrog Learning Expert