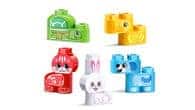 Build animal buddies and more using 27 easy-to-hold blocks.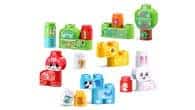 Electronic Smart Star™ cube (sold separately)
Combine with sets (sold separately) that include an electronic Smart Star™ cubefor learning phrases about animals, colors and numbers 1-10.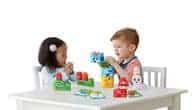 Includes 10 double-sided learning blocks that, when inserted into the interactive Smart Star™ (sold separately), trigger different sounds and phrases.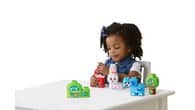 Use the included blocks and blocks from other LeapBuilders® playsets to build tons of exciting creations.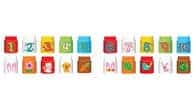 All LeapBuilders® blocks work with all LeapBuilders® playsets (each sold separately)
| | |
| --- | --- |
| Weight | 1.33 kg |
| Dimensions | 25.5 × 26.7 × 18.5 cm |
Only logged in customers who have purchased this product may leave a review.
"Block play is a stimulating and rewarding way to foster developmental skills from hand-eye coordination to spatial and counting skills. LeapBuilders® block sets encourage open-ended play that builds creative thinking and offers opportunities to learn basic skills like numbers, shapes, music and colors." Clement Chau, PhD, LeapFrog Learning Expert
You may also like…
window.wooptpmDataLayer.products = window.wooptpmDataLayer.products || {}; window.wooptpmDataLayer.products[23896] = {"id":"23896","sku":"LF80-608900","name":"LeapBuilders\u00ae 81-Piece Jumbo Blocks Box\u2122","price":49.9,"brand":"","category":["Learning Toys"],"quantity":1,"dyn_r_ids":{"post_id":"23896","sku":"LF80-608900","gpf":"woocommerce_gpf_23896"},"isVariable":false,"isVariation":false}; window.wooptpmDataLayer.products[23896]['position'] = window.wooptpmDataLayer.position++;