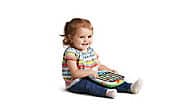 Press the 20 app icons to explore letters, numbers, shapes, colours, weather, fun facts, counting, stories and foreign languages.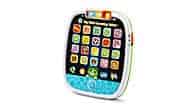 Touch the phone, clock, Scout, camera and music player icons to learn about greetings, time concepts, role play and music.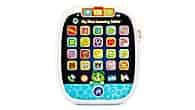 Choose Explore, Learn or Music modes to explore role-play, a variety of age-appropriate curriculum, 20 familiar melodies and three songs.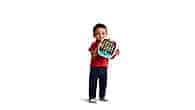 Play and learn with Scout as he giggles, barks, talks and sings. The tablet also includes Scout's puppy friend Violet in the phone app.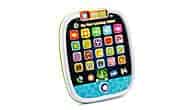 Press the app buttons to activate unique colour and light patterns. Slide fingers over the screen for special sounds and lights.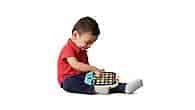 Listen to 20 melodies and three sing-along songs including the ABC song and songs about numbers and rainbow colours.
["Numbers","Colours","Shapes","The Alphabet","Opposites"]
"My First Learning Tablet™ appeals to toddlers' curiosity and exposes them to early language and number skills through age-appropriate pretend play. A wide variety of short stories and phrases, learning songs, and counting activities introduce early skills that set an important foundation for later learning." – Clement Chau, PhD, LeapFrog Learning Expert