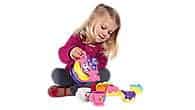 Kids can host a tea party, hear tea gurgling and see it slosh realistically through the teapot's heart-shaped window.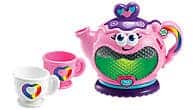 Teapot lights up in 6 colours to teach colour names and plays 7 songs. Tip, sip and share tea with friends in two cups.
Practice motor skills serving and sharing 6 cake pieces, then match the cake to the "flavour" of tea you've chosen!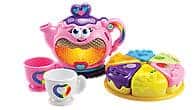 Lift the teapot's lid to reveal a shiny mirror, play peek-a-boo and hear fun sounds.
Sing-along songs teach manners and greetings; sharing with friends helps kids prepare for new social environments.
["Colours","Counting","Sharing","Food & Nutrition","Social Skills","Matching"]
The Musical Rainbow Tea Party introduces essential preschool skills from early vocabulary to counting while building social skills like sharing, taking turns and patience.