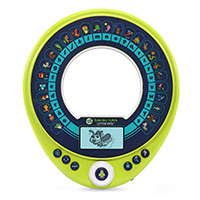 Spinning Lights Letter Ring
Meet Sparky the phonics firefly! Zip around the ring and this friendly little bug will light up each letter to introduce letters, letter sounds, spelling and animals. Delightful animations of Sparky and the animals accompany each discovery. Sparky loves to play hide and seek! Listen to the letter and letter sound clues to find the letters Sparky is hiding behind. Finding the firefly helps build early reading skills by getting preschoolers to look for Sparky again and again. Now that you know your phonics sounds, use what you've learned to build whole words with Sparky's help. Well done! Get to know Sparky's animal friends by listening to the clues. Find the animal Sparky's hiding with on the ring by matching the animal to its description or the sound it makes. It is an alligator astronaut!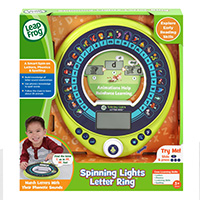 his literacy lightning bug flies around the ring introducing preschoolers to letters, phonics, spelling and animals.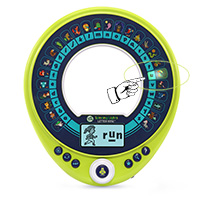 Turn the dial to move Sparky around the ring, lighting up each letter and animal along the way.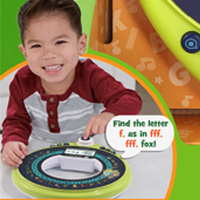 Find the letter on the ring that matches the phonic sound.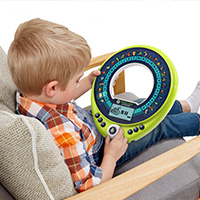 Look for the missing letter in the word on the screen.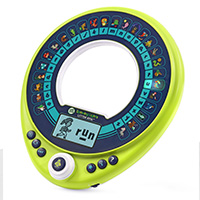 Hear a word and find the correct letters to spell it with Sparky's help.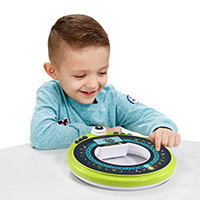 Hear animal descriptions and sounds or listen to alliterative phrases to find the animal Sparky's hiding with.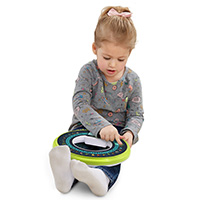 Watch Sparky zip around the ring. When you see Sparky on the screen, catch it in a jar!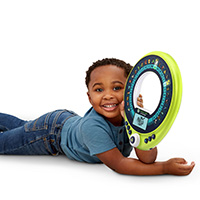 This letter ring is easy to carry and can be played on a lap, tabletop or floor.
| | |
| --- | --- |
| Weight | 1.22 kg |
| Dimensions | 34.8 × 38.2 × 29.8 cm |
| Batteries | 2 AA Batteries |
Only logged in customers who have purchased this product may leave a review.
Letters, Phonics, Spelling
"With the Spinning Lights Letter Ring™, children build their knowledge of letter-sound relationships and use their growing phonics skills to spell words." Carolyn James, Ph.D., LeapFrog Learning Expert