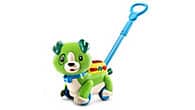 Push Scout along and listen to him sing educational songs while moving his head, legs and tail move.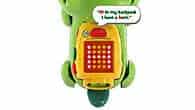 Choose from three play modes including letters, numbers and fun with Scout.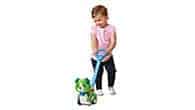 Walk Scout or sit on the floor and play with him.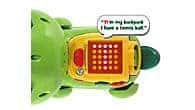 Hear songs about letters and numbers while they scroll by on Scout's backpack screen.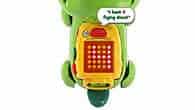 What's in Scout's backpack?
Explore letters and numbers by pressing the arrow buttons. Choose one to find out what Scout has in his backpack.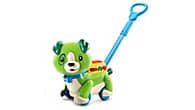 Press Scout's heart button to hear him say fun phrases and ask you for kisses.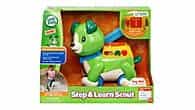 Hear Scout sing cute letter and number songs to you by pressing the blue music button.
["Gross Motor Skills","Counting","The Alphabet"]
Step & Sing Scout blends learning into physical and pretend play. This toy invites toddlers to exercise gross motor skills by walking Scout and engaging their attention with fun phrases and exciting animations to introduce letters and numbers. Clement C., PhD, LeapFrog Learning Expert