Join Dusty as he puts his courage to the test at the Wings Around The Globe Rally, and get practice with listening and reading comprehension, vocabulary skills, phonics skills, word recognition and science along the way.
Works With: All LeapPad Tablets except Epic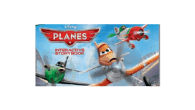 The visual dictionary for Disney Planes includes many common sight words, which can't be sounded out but are frequently used across a wide range of contexts. Kids can also sound out other words letter by letter and interact with 10 words like plop, zoom and bang that pop up on the screen.
The range of reading modes and text levels in Disney Planes, along with the sound-it-out feature and visual dictionary, are designed to support beginning readers as they build comprehension, phonics and word recognition skills, and to boost their reading and listening vocabulary, which contributes to their overall understanding of the text the ultimate goal of reading instruction.
Listening & Reading Comprehension, Vocabulary Skills, Phonics Basics, Word Recognition