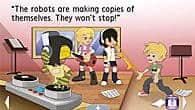 Join LeapSchool friends in an interactive story adventure. Gig and his classmates as he creates a robot clone who doesn't always follow direction.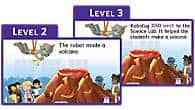 The story is written at three different levels, which progress from simple text to more complex words and sentences.
Learn cool new words using an image dictionary designed to reinforce visual connections and promote sound learning.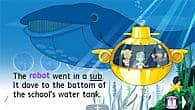 Get word-by-word support, listen to a page or the complete story, and touch pictures to hear surprises.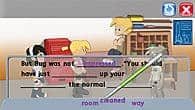 Shake your LeapPad for a whole new way to learn how words form sentences-tap the right word to fill in the blanks.
Phonics Reading, Comprehension, Sight Words, Vocabulary
Ultra eBooks allow kids to engage with the story in multiple modes. Kids may choose to explore text that is above their recommended level, allowing exposure to richer language and more sophisticated sentences while promoting listening comprehension.