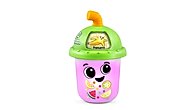 Take a smoothie break while your little one explores the Fruit Colors Learning Smoothie™! Learning is delicious with this cute, colorful cup. Swivel the straw to choose from five fruit flavors, and the cup will change color to match—this smoothie is bananas! Meet Crystal the Cup plus five funny fruits like Sherry Strawberry and Oliver Orange who introduce themselves and their colors. The straw is also a teething toy for kids to nibble as they listen to fruit-themed sing-along songs and music in reggae, pop, punk rock and country styles. Shake up the toy smoothie cup to hear the bubble beads bounce.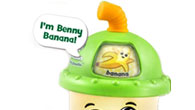 Get to know Oliver Orange, Grant Green Apple and other friends, all while learning fruit names, counting, colors and more.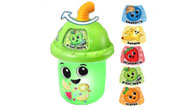 Spin the straw to change Crystal Cup's colors. Each spin offers up fun activities depending on which fruit is showing.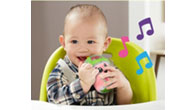 That straw does more than twist and spin around! The soft material is great for nibbling when little ones are teething.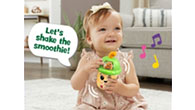 Giggle at fruit-related jokes, or dance along to catchy reggae, country or pop songs. Shake with the tunes to hear the beads rattle inside.
Colours, Fruit, Counting, Music
"The Fruit Colors Learning Smoothie™ is an interactive way for infants to get excited about colors, fruits, and counting through musical fun. With each turn of the straw, your child will get to practice their fine motor skills and hand-eye coordination." Clement Chau, Ph.D., LeapFrog Learning Expert