With the Lettersaurus™, your little one will play with their very own dinosaur while learning about letters, numbers and music!
Learning letters is dino-mite with the Lettersaurus™! This adorable alphabet dinosaur has colourful letter buttons on his back that lets kids explore letter names and the sounds they make. Press the dino or footprint button to hear friendly phrases or add sounds to a jungle beat. Spinning the tail wheel introduces numbers and plays a counting song. For more music, pressing the light-up star button plays three upbeat songs. The dinosaur toy is also a pull toy that turns his head side-to-side as he wobbles along. Intended for ages 12+ months. Requires 2 AA batteries. Batteries included for demo purposes only, new batteries recommended for regular use.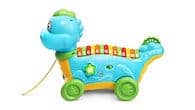 Bright, multi-colour letter buttons trigger letter names and sounds.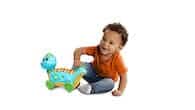 Spin the number wheel on the dino's tail to explore numbers.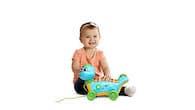 Press the star button to hear an ABC, counting or a dino song.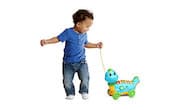 Pull the dino along to see his head turn side-to-side as he wobbles along.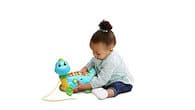 Trigger a cool jungle beat, then press the letter buttons to add sounds to the music.
Listen to the dino say friendly phrases.
Gross Motor Skills, Counting, The Alphabet
"Research shows that knowing the alphabet is an important first step to learning to read. We designed Lettersaurus™ as a learning pal to expose children to letter names and sounds as they exercise walking and pulling on the toy. Lettersaurus™ builds learning right into engaging physical play." Carolyn James, PhD, LeapFrog® Literacy Expert