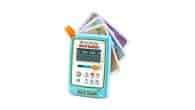 The innovative sound slider feature helps children understand what letters sound like and how sounds blend into words.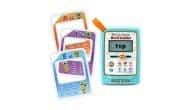 Three double-sided activity cards can be inserted into the word builder to learn about vowel sounds, consonants and words.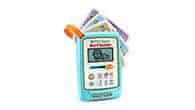 Practice phonics skills, spelling and vocabulary while exploring 250+ words.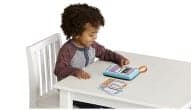 Watch words turn into lively animations when kids sound out the word correctly!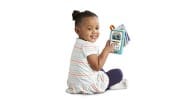 Encourage phonics skills in a unique way with the sound slider that blends letters into words
Only logged in customers who have purchased this product may leave a review.
Resources
Download Guide
Get Support
What is included: LeapFrog® ABC Phonics Word Builder™, Three Activity Cards, Parent's Guide
Letters & Letter Sounds, Vocabulary, Phonics, Spelling, Logic Skills
"The ABC Phonics Word Builder™ helps children map letters to their sounds. Using the slider to blend letter sounds into words, children can also recognize that words are made up of individual sounds and start building the phonics skills they need to be successful readers." Carolyn James, Ph.D., LeapFrog Learning Expert